Overview
CAHRC Diversity Initiatives
CAHRC recognizes that women, Aboriginal people, immigrants, and persons with disabilities are underrepresented and have a valuable role to play in the agricultural workforce.
AgriWomen. Women play an important role in Canadian agriculture, but they are still underutilized. CAHRC supports women in agriculture by connecting them to career resources, sponsoring original research, and producing profiles and case studies to highlight the significant contribution women make to the sector.
Indigenous Agriculture. The Canadian Agricultural Human Resources Council (CAHRC) initiated a project to explore with the Indigenous community ways to increase Indigenous participation in the agriculture population as operators and through employment.
Non-traditional Agricultural Labour Sources. Attracting and retaining non-traditional labour sources, including immigrants, and persons with disabilities, is critical to ensuring that the sector can meet its labour needs. CAHRC supports this goal by commissioning original research and pilot project plans to encourage participation among under-represented groups.
Workplace Diversity Tools
CAHRC supports workplace diversity by developing practical tools designed to help agricultural employers become an inclusive, supportive employer of choice.
The AGRI HR Toolkit addresses the unique needs of the agriculture industry and promotes an inclusive and diverse workplace environment. Based on extensive industry research and field testing, the toolkit includes everything agricultural employers need to improve their people-management skills and develop key resources to help them find, retain, and support employees.
Learn how to:
Create a more accepting workplace
Avoid discrimination and legal issues
Attract a wider range of job applicants
Develop a diversity program
Identify hidden biases in the workplace
Additional Resources
CAHRC recommends these resources to help agricultural employers and stakeholders learn to become more supportive of diversity in the sector.
Welcome to Black Canada: How to Take Action
This list of resources includes information and activities for people who want to learn more about the Black experience and actively support Black people in their communities.
Anti-racism Resources
This list includes articles, podcasts, videos, books, films, and social media accounts that serve as a resource to white people who wish to deepen their anti-racism work.
Structural Racism in the Food System: Perspectives from Black Women Scholars
Hosted by the Inter-Institutional Network for Food, Agriculture, and Sustainability (INFAS), this webinar features three Black women scholars from historically Black colleges and universities describe their unique perspectives on the issue of structural racism in the food system.
Reconciliation Canada
Born from the vision of Chief Dr. Robert Joseph, Gwawaenuk Elder, Reconciliation Canada is leading the way in engaging Canadians in dialogue and transformative experiences that revitalize the relationships among Indigenous peoples and all Canadians. Website includes reports, videos, and more.
National Centre for Truth and Reconciliation
This website contains statements, documents and other resources collected during a multi-year process to listen to Survivors, communities and others affected by the Residential School system.
The Together We Grow Coalition
Comprised of 45 agriculture industry, agribusiness, education and government members, the coalition was formed in 2016 with the goal of growing a diverse pipeline of talent—now and into the future—for the U.S. Agriculture industry.
"We are committed to working together to build a modern workforce with the capacity to meet the needs of a growing world. We will set an industry standard that values inclusiveness and diversity to ensure that the sector realizes its full potential."
—Joint National Industry Statement on Commitment to Inclusion and Diversity
Indigenous Agriculture
First Nations and Indigenous people history in agriculture and agri-foods today has existed long before Canada confederated. There has always been a relationship between Indigenous people and the land. Indigenous people harvested plants, ranched livestock, and cultivated plants to create medicines and design companion planting systems like the Three Sisters[1]. Canada's agriculture and agri-foods industry is critical to the sustainability and independence of the country, and of growing importance to Indigenous communities nationwide.
As part of our mandate to support human resource development in the sector, CAHRC continues to work on providing research, tools and understanding to support an equitable, inclusive and diverse workforce in primary agriculture.
An example of this work includes exploring with the Indigenous community ways to increase Indigenous participation in the agriculture population as operators and through employment. Another example includes conducting research focused on Indigenous farm management training to further support the development of agriculture and agri-food initiatives.
CAHRC continues to build relationships with Indigenous communities and producers through these initiatives.
Growing Security: Summary of Agriculture and Agri-foods Zoom Discussions
---
[1] Three Sisters companion planting – is a companion planting system where beans, corn and squash are planted together – each helps the other to survive. www.nativeseeds.org/blogs/blog-news/how-to-grow-a-three-sisters-garden
Sharing Circles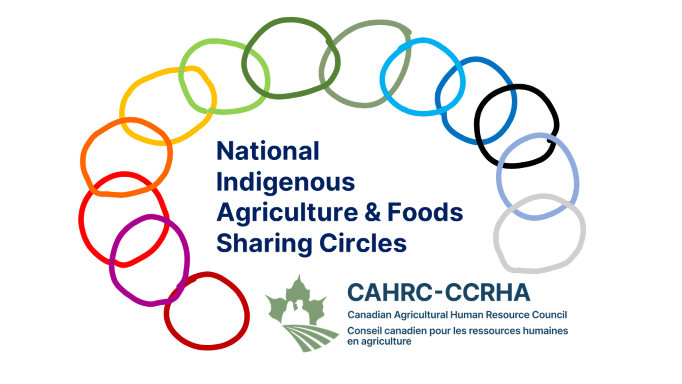 Learn how First Nations and Indigenous people are leading and restoring cultural practices in agriculture. Indigenous and Industry Experts share their experiences in agriculture, aquaculture and traditional foods. Sharing Circles are for anyone who is working in agriculture, community gardens or packaging/processing food products – or would like to learn more. 
---
November-December 2021
November 9 - Community Agriculture and Gardening
November 16 - Livestock and Seafood 
November 23 - Production, Marketing and Packaging 
November 30 – Greenhouse Production  
December 7 - Traditions, Processing & Storage  
---
Facilitated by Kławum' Paŧki (Beverley O'Neil), Citizen of Ktunaxa Nation / O'Neil Marketing & Consulting & Numa Communications
Non-traditional Agricultural Labour Sources
Supporting Canada's non-traditional agricultural labour sources.
Canada's agriculture sector faces unique challenges that impact its ability to attract and retain enough workers. In 2014, 26,400 jobs went unfilled in Canada's agriculture sector, costing $1.5 billion in lost revenues. The situation will worsen between now and 2025, by which time the agriculture sector's labour gap is expected to double.
With a growing need for labour of every type, including entry-level workers, managerial staff, specialists, and owner-operators, the sector must explore new options. By considering non-traditional labour sources and taking steps to support non-traditional labour in the workplace, the agriculture sector can improve its ability to find and keep the workers needed to support continued growth.
To this end, CAHRC commissioned a series of research reports that examine the potential of non-traditional labour sources, which include Aboriginal people, immigrants, and persons with disabilities. The research explores some of the barriers that prevent these groups from joining the agricultural labour force, and identifies innovative approaches, new opportunities, and success criteria for increasing participation.
---
This report consolidates data research, focus-group findings, and an environmental scan of existing programs and services to identify Aboriginal people, immigrants, and persons with disabilities as three sources of non-traditional labour with the potential to make a contribution to the agriculture sector labour force.
The report also identifies barriers to employment and options for addressing these barriers, and includes an overview of the input provided by focus groups conducted with employment services agencies that work with each of the three non-traditional labour sources.
---
Building on the research conducted in the March 2015 report, CAHRC commissioned three pilot project plans to expand the participation of Aboriginal people, immigrants, and persons with disabilities in the agricultural workforce.
This report examines innovative approaches to increase agricultural employment among these labour sources through an examination of 14 success case studies, and identifies common success criteria evident across 10 case studies.
All 14 case studies, along with the case study interview template, are also included in this report.
---
This final report summarizes the activities associated with the pilot projects for increasing agricultural labour force participation among Aboriginal people, immigrants, and persons with disabilities.
The contents include a summary of the research, consultation, industry validation, success case study development, and success criteria identification. The process for recruitment and selection of pilot project sites and the development of a hiring guide for target labour sources is also described.
The report includes an interim summative evaluation of the pilot projects, including outcomes, applicant perspectives, strengths and challenges of the projects, and lessons learned.
---
This report delivers a complete summative evaluation to assess the impact of the planning, implementation, and communication of the pilot projects.
The report also evaluates the performance of the pilot projects against intended goals and metrics, including the number of new hires from the three non-traditional labour sources targeted, including Aboriginal people, immigrants, and persons with disabilities.
Agri Women
Women play an important role in Canadian agriculture. Women working in the primary agriculture sector occupy positions in every industry from beef to beekeeping, from entry-level workers to farm owners.
But women have a bigger role to play. They make up 50 per cent of the general population, but only 30 per cent of the total agricultural workforce. And when we look at the proportion of women who go on to assume leadership roles, it is much smaller than the proportion of men who do so.
When women are not represented at the leadership and decision-making level, it hurts them and it hurts the entire industry. Numerous studies show that increasing gender diversity improves productivity, profitability, and retention. For the agriculture sector, which faces significant and increasing labour challenges in the coming years, increasing the proportion of women in the workforce at every level is crucial to success.
Fast Facts
Women have a significant contribution to make to Canada's $108-billion agri-food sector, but they are underrepresented at the leadership level. This has a negative impact on the sector's profitability and women's ability to achieve their full potential[1].
Agricultural managers: 25% female, 75% male
Agricultural business owners[2]: 29% female, 71% male
National and provincial association chairs and presidents: 12% female, 88% male
Fewer women reach the leadership level, yet more women have participated in post-secondary education and leadership programs.
Participation in managerial training: 34.6% female, 32.9% male
Participation in Advancement in Agricultural Leadership Program[3]: 61.5% female, 38.5% male
Participation in 4-H programs[4]: 60% female, 40% male
Ag business managers/owners with university degrees: 65% female, 46% male
"There are barriers preventing women from advancing in agriculture."
41% of women agree
12% of men agree
What are the top barriers for women in agriculture?
Balancing career and family: 16%
Old boys' club: 16%
Lack of role models: 13%
All three of these barriers have been witnessed or experienced by:
Other top barriers include:
Lack of access to training
Being denied the opportunity
Facing double standards
Lack of mentoring opportunities
Lack of confidence to pursue more
How can the agriculture sector support women's advancement to leadership roles?
Providing self-directed career development options
Creating an inclusive environment
Building awareness of potential career paths
100% of women cited networking as a key success factor.
Top 2 workplace policy priorities[5]:
Create policies that help women balance career and family responsibilities. Women devote twice as much time to childcare as men.[6]
Support equal pay for men and women who do the same job. Women are paid 25% less than their male counterparts.[7]
---
[1] Unless otherwise indicated, all numbers are taken from the 2015 SAWA survey of 532 male and female owners, operators, and workers in agriculture.
[2] Source: Census of Agriculture. According to the 2016 Census of Agriculture, there were a total of 77,970 (28.7%) females who had an ownership stake in an agricultural business.
[3] Source: Rural Institute of Ontario
[4] Source: 4-H Canada Annual Reports, 2008 to 2015.
[5] Based on four regional focus groups with a total of 47 participants and 28 one-on-one interviews.
[6] Source: Statistics Canada. According to 2010 data, women spend more than twice the time that men do on unpaid child care
[7] Source: Statistics Canada. According to 2012 data, women earn only 75% of men's earnings.
Agri Women Profiles
Celebrating the women who are moving agriculture forward.
As part of Supporting the Advancement of Women in Agriculture (SAWA) project, CAHRC collected and published profiles of the many inspiring women who have chosen to build careers in agriculture.
Women bring valuable expertise, leadership, innovation, and dedication to a wide variety of roles. Their stories, their experiences, their backgrounds, their challenges, and their perspectives are all different, but they share a commitment to enhancing the strength and diversity of Canada's agriculture sector.
Case Studies
Understanding and addressing gender issues in agriculture.
As part of the Supporting the Advancement of Women in Agriculture project, CAHRC collected and published case studies that examine the challenges that agricultural organizations face in addressing gender imbalance in the workplace. The case studies examine the issues that farms and agribusinesses face, and explore the ways in which they are taking steps to create more welcoming, inclusive, and supportive workplace environments.
These cases of gender-based interventions provide helpful examples to other organizations wishing to support women in the workplace and make better use of their skills, expertise, and leadership abilities.
This case study examines the impact of one woman; Brenda was a trail blazer for women in the agriculture industry. She raised awareness of opportunities for women in agriculture, and provided mentorship to address the lack of female representation in leadership roles in agricultural associations in both Ontario and Canada.
Board Diversity
Attract more women to your agricultural board.
Research shows that more women than men enroll in post-secondary education and participate in leadership programs, yet they are still underrepresented at the board level. As a result, women who are experienced, educated, committed, and have a valuable contribution to make are not getting the opportunity to make their voices heard. 
This situation not only prevents women from achieving their full potential, it also diminishes the effectiveness of agricultural leadership as a whole. Boards with a more equal mix of genders are likely to make better decisions, achieve higher financial returns, and attract a wider range of talent.
To achieve greater gender diversity, boards must look at their current procedures and policies with a view to making them more inclusive of and welcoming to women candidates. By examining the codes of conduct, recruitment and selection processes, and other key elements of governance, organizations can start to build a more diverse and impactful board.
Best-Practice Guide to Enhancing Board Diversity
CAHRC has developed a free best-practice guide for industry association leaders, including CEOs, presidents, executive directors, and the board executive.
The guide includes policy templates, checklists, and step-by-step best practices for benchmarking and improving the inclusiveness of your board.
Workplace Diversity
Promote women leaders in the workplace.
Strong leadership is essential to a thriving agricultural business. But many qualified and experienced women are not being given the support and recognition they need to assume leadership roles. As a result, women are underrepresented at the leadership level in agricultural businesses.
This doesn't just have consequences for the women themselves. The issue negatively impacts the entire agriculture sector, which needs strong leadership and diverse perspectives to enhance its profitability and competitiveness. In general, greater workplace diversity improves productivity and worker retention, and women-led companies tend to outperform the average financially.
Agricultural businesses need to do a better job of identifying, supporting, and promoting women with leadership potential. Addressing the issue begins with a recruitment process that encourages and values women applicants, and policies and processes that make training and advancement opportunities available to women employees.
Mentorship
A pathway to leadership for women in agriculture.
A lack of female role models is one of the key challenges in attracting and promoting women to leadership roles in agriculture. Because there are far fewer women than men in the sector, and even fewer women at the leadership level, mentorship can be a valuable tool for connecting women and supporting promising leadership talent.
Mentorships are formal relationships in which a more experienced person provides guidance and support to a less experienced person. Mentorships are a vital means of encouraging women to prepare for and participate in agriculture at the leadership level, and they offer benefits to the individual and the organization:
Less experienced women learn to improve their professional and leadership capabilities.
Women with more seniority enhance their ability to lead capably and confidently.
Organizations support improved performance for female employees at all levels.
---
Additional mentorship resources
This government-sponsored program is an 'on-farm' learning placement that matches individuals who are thinking about entering a farming career with experienced farm managers. Mentees learn about farm business management in a hands-on environment.
This program matches beginner farmers to local, experienced organic farmers in Atlantic Canada. To participate in the program, you must be a current member of ACORN.
CRAFT is a network of experienced farmers offering internships on their farms in Northeastern Ontario, Kingston, Kawartha, and South West Ontario.
This mentorship program provides industry-specific training and interest-specific mentorship to young producers between the ages of 18 and 35 in the beef industry. 
This program includes an online business development course, one-on-one mentoring, peer-to-peer learning, speed networking, and access to agri-food events.
The USDA Women in Agriculture Mentoring Network is a way to connect, share stories, and share experiences online and through social media with other women in agriculture.
This six-month group mentoring program gives mentees access to a diverse pool of mentors from both the private and public sectors who match their field of interest, personality, and experience.