Overview
CAHRC's AgriTalent program supports the development of connections between post-secondary students, employers in agriculture and post-secondary institutions and contributes towards preparing a job-ready workforce for the Canadian agriculture industry. As part of this program, subsidized Work Integrated Learning (WIL) opportunities connect employers with post-secondary students to ensure higher participation by post-secondary students within the industry with special focus on including under-represented and equity-seeking groups.
Work Integrated Learning is an important component in attracting youth to the Canadian agriculture industry. CAHRC's Growing Opportunities Student Wage Subsidy Program empowers employers to hire post-secondary students as part of the work-integrated learning components of their academic courses. The Program also presents activities such as webinars, networking sessions, business case competitions to engage students and post-secondary institutions with the industry and improve their job readiness.
Click on the Testimonials tab to read what past participants have to say about their experiences. 
Eligibility Criteria
Note: up to date as of May 1, 2022
NEW SWPP Funding Information
50% of the wages (to a maximum of $5,000) for each net new placement.
70% of the wages (to a maximum of $7,000) for each net new placement for under-represented groups including women in STEM, Indigenous students, newcomers, and persons with disabilities, visible minority as well as first-year students.
Employer Eligibility:
Registered Canadian businesses and not-for-profit organizations from the Agriculture Industry (including but not limited to: field crops, primary producers, greenhouse, horticulture, aquaculture, veterinary clinics servicing farm animals/ livestock, farm equipment dealerships, input dealers and agriculture focused media agencies)

Willing to hire students from both agriculture and non-agriculture background to provide quality work integrated learning experience to post-secondary students across Canada

Willing to hire post-secondary students from under-represented groups such as women in STEM, first-year students, Indigenous communities, students with disabilities, visible minorities and newcomers to Canada

Committed to paying the student for the role and having the financial capacity to pay the student for the duration of the placement in full (the wage subsidy will be administered after receiving the final pay stub at the end of the placement)

Compliant with all federal and provincial human rights and labour legislation, regulations, and any other relevant standards including the Occupational Health and Safety Act and the Employment Standards Act

Where legally required, responsible for Workplace Safety and Insurance Board (WSIB) or alternate workplace insurance coverage
Employers that are NOT eligible:
Federal, provincial, territorial, and municipal government

Federal and provincial Crown corporations

Non-Agricultural employers

Post-Secondary Institutions (PSIs)

Financial institutions

Non-secular institutions*

Please note that this list may not be comprehensive, placement eligibility is determined through the application process.
*some non-secular WIL opportunities may be eligible, please reach out to nimran@cahrc-ccrha.ca for clarification.
Student Eligibility:
Registered as a domestic student in a recognized post-secondary institution in a full-time or part-time program.

Undergraduate, graduate, diploma or certificate programs eligible.

Canadian citizens, permanent residents, or persons to whom refugee protection has been conferred under the Immigration and Refugee Protection Act

Legally entitled to work in Canada in accordance with relevant provincial or territorial legislation and regulations

Undertaking a placement recognized as a

Work-Integrated Learning

component by the student's institution in connection with a course, degree, certificate, diploma, or other recognized program offered by the institution.

International students are NOT eligible
Placements:
Must meet requirements of a Net NEW 

placement as defined by Employment and Social Development Canada ("ESDC").

Can be

 

full-time or part-time positions
The position can include co-op placements, internships, field placements, or applied projects to solve particular problems for employers

Stacking with provincial tax credits is allowed, but it's the employer's responsibility to follow their provincial tax credit guidelines and consult a tax professional. Wage subsidy funds cannot be counted toward any tax credits, only actual paid wages.

Placements can be partially funded by non-federal (provincial, municipal, territorial) funds but only funds from non-governmental sources are eligible for subsidy.  

For example, a position paid with 60% provincial grant funding is only eligible for a subsidy calculated on the remaining 40% of the funds paid by the employer.
Placements that are NOT eligible:
Unpaid positions

Placements funded by other federal programs and grants, for example Canada Summer Jobs, Canada Emergency Wage Subsidy (CEWS), or any other delivery partner of the Student Work Placement Program

(full list available 

here

)

Apprenticeships that are part of the designated trades governed by regulations under the Provincial and Territorial Apprenticeship Acts (

Red Seal Trades

)
How to Access
How the subsidy program works:
1. Application for Wage Subsidy
Employer signs up on

Outcome Campus Connect

Employer submits a funding application through Outcome campus Connect and/or posts a job through the same platform.
2. Confirmation of Employer Eligibility
CAHRC review employer application

CAHRC confirms employer eligibility/ineligibility for the subsidy program within 14 days

CAHRC sends Terms and Conditions to eligible employers and requests student information from the student (if the student information has not already been included in the online funding application)

CAHRC receives signed Terms and Condition and student contact information from employer 
3. Confirmation of Student Eligibility
CAHRC contacts student

CAHRC sends Student Agreement and Online Information Form to student

CAHRC receives Student Agreement, Proof of Enrolment and completed Online Information Form from student

CAHRC reviews student eligibility

CAHRC confirms student eligibility to the employer 
4. Approval and Payment of Wage Subsidy
CAHRC send gross salary template and requests employer to submit the filled and signed gross salary sheet along with the supporting documents

at the end of the Term.

CAHRC calculates wage subsidy based on the gross salary paid

CAHRC request invoice from employer

CAHRC processes wage subsidy payment to employer within 45 days
Frequently Asked Questions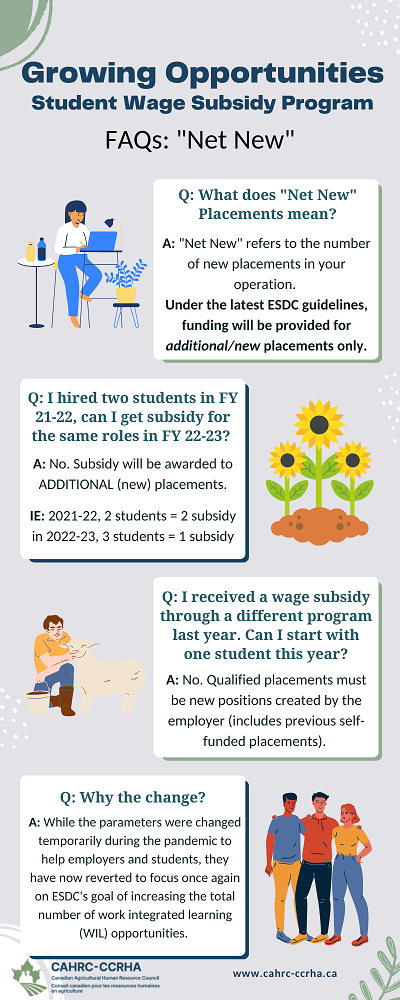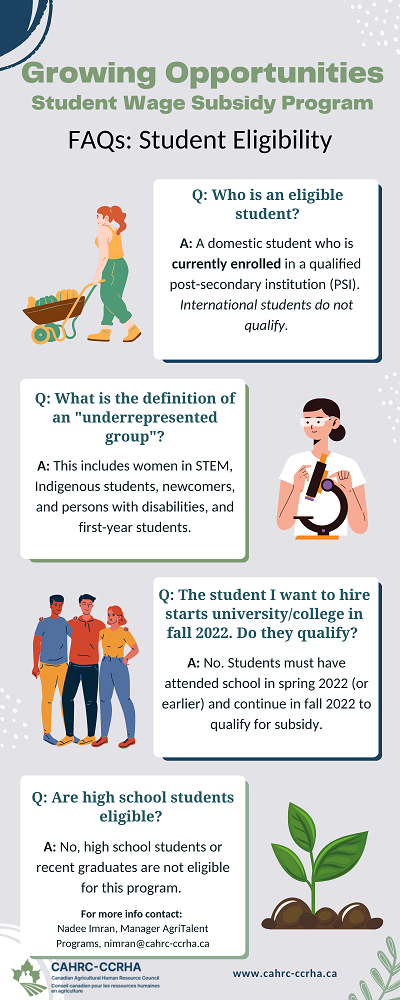 Testimonials
Check out what some employers have to say about the Student Workplace Program:
HyLife Ltd (Livestock)
Louella Friesen
Our experience with SWP Program was positive and we are grateful at the funding we were able to receive for the students that were eligible under this program. Communications during the entire process were also really good which I appreciated. I would definitely recommend the program to others if the opportunity arises and I hope that HyLife will be able to take advantage of this program or one similar to this one next year as we look at hiring more students in 2023.A special thank you to you Megan and to Nadee for the assistance provided and for making the program such a success for us! Truly grateful!
Glacier Farm Media (Industry Association)
Erin Romeo
SWP have been wonderful to work with. Anytime we had issues with processing portions of the application, the representatives were quick to answer questions or direct us to resources for more information. The service was prompt, and the online software program was easy to use. I liked the tracking page process to see where the applicants were in their process and what items may be missing. When the applicants were missing information, representatives kept in communication with our team to ensure that we were all on track. Everything was submitted on time and processed efficiently.
GrowMark (Industry Association/AgTech)
Barry Hannah
I thought the program was excellent and the mgt. team was excited about the opportunity for the interns.  If the program continues next year, I will spend some time with the mgt. team to discuss the process as I had a lot of them, I doing parts of the required paperwork.  I think a better overview from myself, and team will assist us in moving forward.  I think it is important for students to understand the process better and that is something I will work on.  We have such large opportunities for students and want to ensure they are aware of the process as well as our mgt. team.  I want to thank you for all your support and patients with me.
Character Dairy Genetics (Livestock)
Jayne Dietrich
CAHRC has been an incredibly supportive program for our business.  We have used other funding programs over the years and found that CAHRC features an extremely user friendly application and summary form.  It was very satisfying to watch our student learn and become even more confident in her area of studies.  The staff at CAHRC were friendly and encouraging. Thank you for this opportunity.
Cocoabeans Bakeshop Inc (Industry Association)
Betsy Hiebert
It was a pleasure to have a student work with us through the CAHRC's Student Wage Subsidy Program. Our student was a past employee who we welcomed back with open arms. Her knowledge of gluten-free baked goods was excellent and we were able to give her a broad range of tasks. Those tasks included: serving customers, prepping kitchen and baked food to sell, setting up our provincial production kitchen and everything in between. So thankful for this opportunity - now that we have participated once we'd be interested in doing so next summer. The only thing we would change is offer a little bit higher pay - now that we understand the program. Thanks for the opportunity.
Dry Lake Ranch Alberta (Ranch)
Rob Nikkel
It was an excellent experience for us to work with our summer student. It was exciting to be a part of her growth over the term. Our ranch provided her with a wide variety of experiences, a positive learning environment, an opportunity for continued growth in skills, and new skill development over the term. She had great enthusiasm for her job. She worked well as a team member and developed a lot in independent job activities. As time progressed, she grew confident in how she approached her work. Overall, this was an excellent experience for our ranch, and we are thrilled to have been a part of the CAHRC's Student Wage Subsidy Program.
Hybrid Infusions Ltd. (Primary Growers)
Jessica Roth
Our employees were a friendly to work with, and we feel we benefited overall from these placements. It's a joy to watch our interns grow in knowledge and capacity, and they contribute greatly.
Dairy Lane Systems Limited (Livestock)
Lori Atkins
My experience with the SWSP this past summer was very positive. Usually when a wage subsidy opportunity comes across my desk I cringe slightly as that usually means a lot of time and paperwork, which is, not something anyone has a lot for these days. I was pleasantly surprised with the amount of work it wasn't!!!  It was a seamless process, I had excellent support when I had questions and the payment we received came in very timely. Definitely, SWSP was a beneficial program for the small amount of work it created.
Critter Visits of Woolley Wonderland Farm (Livestock)
Karen Woolley
As a small farm, in the rural area of the Kawarthas, we have had such grief in getting people to travel to our farm to work. Through the Outcome Campus Connect program and subsidies, I was able to pay an attractive wage and get an employee who stayed the full season. It was such a blessing to our farm last summer as COVID was still holding back our main income stream. The staff at Outcome Campus Connect were great at helping me migrate the forms and keep on top of the e-forms to get our funding in a super fast timing. Thank you for this program.
Miracle Springs Inc (Aquaculture)
Mike Cunning
With the tight labour market, we were having limited success in attracting summer students. CAHRC's Student Wage Subsidy Program was instrumental in helping us attract candidates by offering  a higher than average weight, which in turn allowed us to achieve key milestones this summer. I hope to be able to participate in the future! Thank you CAHRC
Maude Island Farms (Primary Growers)
Lynda Dixon
We had a coop student this summer and the experience with her at the farm was excellent. She was thoughtful, curious, hard working, and really engaged in learning everything the farm and Haida Gwaii had to offer. I really appreciate how straightforward the program is and the funding paperwork wasn't stressful or too time consuming. Thank you for a great program and a great experience.
Den Oudsten Dairy Ltd (Livestock)
Veronica Den Oudsten
We had the opportunity to have a CAHRC summer student this summer. The paperwork necessary was simple and easy. The people coordinating the program were extremely pleasant and professional. We appreciate the chance to work with a young person interested in expanding their business knowledge through their placement at our farm. It was an excellent program.
Rumar Farm
Ruth Gatzke
Hi, thanks for reaching out and requesting our feedback.  It was a very positive experience working with CAHRC.  The friendly staff took time to set up a call with us to explain the program as this was our first time partnering with them.  Very responsive and we appreciated the quick, streamlined approval process.  Compared to other programs,  they make it easy.  With their support we were able to help two young students have a great learning experience last season.  Thank you.
Grieg Seafood Newfoundland Ltd (Aquaculture)
Kevin Smith
Grieg Seafood Newfoundland is happy to provide feedback on the Agri-Talent program we engages in this summer. We received support for two student positions to pursue work terms with us in the aquaculture industry. This opportunity resulted in Grieg hiring both students into full time and permanent positions! The application process with CAHRC was simple and responses were timely. We are looking forward to continuing to work with CAHRC in the future as we receive more work term applicants!
Pharis Farms Ltd.
Leanne Pharis
We very much appreciated the opportunity to employ a student of the University of Alberta.  This student is currently in his last year of an Animal Science degree and I believe that he learned a lot by working on our farm and ranch this past summer.  As much as students learn in their university studies, there is a practical side of things that they can be missing.  In his interview he indicated that he was excited to come and work on our farm and hoped that he would be able to share his knowledge with us.  We appreciated his enthusiasm and confidence in coming to work for us.  I do think it took him a little by surprise that although we don't have the formal education that he has, he discovered that our experience in animal husbandry, behaviour and health was something that he could learn and add to his knowledge base.  Overall, this opportunity served both our farm and this student very well!
Manitoba Forage Seed Association Inc
Heather McBey
Hello Megan, I would applaud the staff that are involved with this program, as they were always there to assist if there were any difficulties with submitting an application for funding.  Their willingness to help was remarkable.  As for a not for profit organization that was awarded the funding it allowed our organization to hire a much need employee that we would otherwise not be able to hire due to financial restraints.  It also provided a young person to enter the work force and develop the skills required to continue with their education and gain the skills needed to work in their area of choice.  This is a much needed program for assisting not for profit organizations financially and individuals that are starting to enter the work force .
Fast Sexing Technologies
Lucinda Beauchesne
Sorry I am late with my testimonial but I wanted to say that I really enjoyed working with the program. The process was timely and correspondence was easy and kind. Thank you for this experience and I look forward to working with you in the future.
Unsure about trying out a career in agriculture? Check out what some of our recent post-secondary student interns have to say!
Nikayla Froese – Shelmerdine Garden Centre (Greenhouse/Nurseries)
Working at Shelmerdine over the summer has been great, and the transition to working while balancing schoolwork has been made easy for me since the beginning of September. The staff have always been easy-going, especially those in charge of scheduling and navigating everyones scheduled classes. There have been times that they relieve pressure from me if I need to study or finish projects, showing their understanding of the pressures that come with being a student. I've been sick a few times since the start of school and they make it clear that personal health as well as the safety of others is a priority. I'm very thankful for this level of lenience and good nature in a workplace environment.
Sophie LaPlante - Le Jardin des funambules (Primary Growers)
During my internship in a company, I had the chance to directly apply the new concepts acquired in class in addition to validating their relevance in an operating company. The internship allowed me to maintain my motivation to continue my studies since I became aware of the importance of mastering the different management tools if you want a flourishing agricultural business.

Ella Reimer-Epp – Shermerdine Garden Centre (Greenhouse/Nurseries)
I worked at Shelmerdine Garden Centre for two summers and it was a fantastic experience. I worked in the retail greenhouse with house plants, annuals and vegetables. I cared for the plants, watered and gave information and recommendations about plants and plant-related issues. I learned so much over the two years I have been there. I learned how to water annuals and tropical plants, I learned about fertilizer and pests that occur both in the home and in outside gardens and about both small and large scale gardening. Overall, Shelmerdine is a vibrant and welcoming place to work, where everyone is constantly learning from each other and sharing knowledge and enthusiasm.
Elise Saatchie – Maude Island Farm (Primary Growers)
Working with Lynda Dixon on Maude Island Farm this summer was one of most rewarding experiences of my life, and has given me a new perspective on what I hope to achieve in the future. From the very beginning Lynda and Laird made me feel welcome in their home, and although I had no previous farming experience they helped me learn and grow over the course of the season. Working on the farm was challenging at times living off the grid and dealing with bugs and garden pests, but at the end of the day I always felt stronger, more resilient, and so proud of what we had accomplished. I saw firsthand how putting in the work to grow food organically and using regenerative methods pays off in the health of the soil and the biodiversity of the surrounding ecosystems. Some of the most memorable moments for me were cooking meals full of fresh veggies from the garden, telling stories over dinner, harvesting over 40 pounds of salad mix and serving it at a Haida potlatch, and getting to know the members of the community every Saturday at the community market in town. Living on the farm I felt happier and healthier in my body and mind, and connected to the land in a way I had never experienced before. I'm so grateful for my experience on Maude Island, and I couldn't have asked for a better teacher than Lynda.
Katie Craven – Topsoil Innovative Urban Agriculture Inc. (Greenhouse/Nurseries)
My experience at Topsoil this summer was incredible. Working at the farm I was able to expand my knowledge on organic urban agriculture, connect with community members and grow as a leader. This job is very dynamic and I loved that every day was a little different. Daily responsibilities included prepping beds, seeding, harvesting crops, prepping and delivering orders and running the on-site farmers market. My favorite part of the job was interacting with the public at our on-site market, seeding in the greenhouse and making compost tea to apply to the crops. I'm so grateful for the role that the Student Work Program played in making my summer placement possible!
Hannah Nikkel – Dry Lake Ranch AB Ltd. (Ranch)
This summer, with my placement, I was able to learn new skills as well as develop previous ones. I worked independently as well as part of a team. I completed tasks from livestock handling to equipment maintenance, which broadened my knowledge and abilities of farm management. My employer was able to effectively teach me skills that made it possible for me to work independently. Working independently and as a team is very important in many lines of work so I'm appreciative that I have that work base. This also helped me gain confidence in my existing skills. Overall, I developed new skills and further developed existing skills in ways that will help me in future jobs.
Why should you try a career in #CdnAg? 
I would say that Agriculture is a fantastic industry to enter if you are ready to rise to the challenge of being a part of a growing and collaborative company. If you want to learn lots about the industry, you will grow a passion for your work. Return on Investment is increasingly growing for farmers globally. Agriculture is a very lucrative industry to enter. – Marketing Intern 
People will always need to eat! No better time to get involved than the present. – Business Analyst intern 
If you are nervous about it, just go for it. Honestly, the experience is worth everything because you learn a lot about your career field and you can also network with people, which will help you in the future. This is a great way to gain experience in the field! 
Give it a shot! I found my passion while working here and think it is an area that has growth and opportunities if you stay with it. 
Find something that really interests you then find companies doing that and ask them for an internship. Then work hard, don't let them down and it can turn into a career. Even if they aren't hiring ask anyways - the worst answer is no. – Cheese maker apprentice 
What surprised you about your job? 
The amount of things the general public doesn't know or understand on the food supply chain and how fragile it actually is. - Cheese maker apprentice 
How quickly I jumped into writing news articles – I filed one on the first day, when I expected to be doing orientation. – Journalism intern 
Since it was my first time joining the Marketing department for a company, I was pleasantly surprised to see the amount of teamwork that goes into the marketing team here. The culture is fast-paced and team-like and everyone has each other's back. This type of environment has been refreshing for me.  – Marketing intern 
The size and scale of the Ag Tech Industry. – Business Analyst Intern 
I was surprised at the number of tasks that IT has under their domain, if anything needs to be done, they do it. It was also interesting to see a career path in my field of study that I hadn't thought to pursue, which broadened my horizons. – IT Student 
Growing Our People
Learning about Agriculture in Canada through Business Case Competitions
Growing Our People is an exciting new way for post-secondary students in Canada to explore agriculture and careers around this sector. Recognizing the diversity and expanse of the Canadian agriculture industry CAHRC has designed an experiential learning opportunity through business case competitions. The business case competition will welcome students from all backgrounds and give them an insight of the skills and techniques that the diversified industry requires, thereby opening new doors of opportunities for them.  
CAHRC recognizes that each school has its unique approach towards problem solving techniques, therefore the project is designed to give each school the freedom to choose and design the competition in a way that allows their students optimum learning opportunity. The students and post-secondary institutions will be supported throughout this competition by an Advisory Group comprised of industry associations, industry leaders and educators to mentor and provide real time industry information to the students. The advisory group will mentor the students and provide them with real time information about the skills requirements in this sector.  
CAHRC believes that the relationships developed and nurtured during the course of this competition will prove to be an invaluable asset for the students moving forward. If you or your institution wants to be a part of a unique learning experience that also provides opportunities for an exciting career path, sign up here.  
Business Case Competitions Roles
Employers
Employer agrees to the Terms of Reference for joining the Program Advisory Committee
Volunteer to be part of the Campus Competition Advisory Group(s) and to work with student and faculties to develop and design the campus-specific business case competition
Volunteer to provide mentorship and learning opportunities from industry representatives/employers
Volunteer to adjudicate the campus competitions and come up with top teams in each campus
Participate in and contribute to organizing webinars and networking events for students
Support CAHRC to decide on a prize for the best teams and help organize the National Level Competition in Winter 2022
Post-Secondary Institutions or Faculties
Confirm campus participation in the business case competition by signing and MoU with CAHRC
Faculty(ies) confirm participation in the Campus Competition Advisory Group(s) and form groups with students and employers to design and develop the competition
Market the competition within the campus through different communication channels
Support students in finding information and preparing for the competition
Work with CAHRC team to review and design materials for the competition
Support the logistics and run the competition within their respective campuses
Prepare the top teams to showcase their ideas for the National Level Competition in Winter 2022 
Post-Secondary Students
Students sign up for the business case competition
Students form teams of 3-5 members (ag and non-ag students combined teams)
Advisory groups join employers and faculties to form campus advisory group(s) to develop and design the competition
Received mentoring, advice and knowledge support from employer groups and advisory committee
Solve an ag-specific case to develop solutions for the industry
Submit solution in campus-approved form and format
Be adjusdicated by members of the Program Advisory Committee
Top teams get the opportunity to share their ideas at a National platform in Winter 2022
Growing Opportunities
Work Integrated Learning opportunity for post-secondary students
Recruiting young people into agriculture jobs is an ongoing challenge for employers across the country. These agri-workforce gaps inevitably lead to lost sales, production delays, and stress across the entire value chain with no end in sight. CAHRC has heard the industry calling for creative solutions and we have partnered with the Government of Canada's Student Work Placement (SWP) Program to put post-secondary students directly into agriculture focused employment opportunities in their communities.
Since fall, 2021, Growing Opportunities  has provided support for Work Integrated Learning (WIL) opportunities in the agriculture industry for agriculture and non-agriculture students. Employers in agriculture are encouraged to hire students from diverse academic backgrounds and qualify for a wage subsidy. In addition, drawing from an expanded pool of candidates outside of traditional agriculture fields will bring innovation and creative solution to the sector and inspire under-represented groups such as women, Indigenous people, disabled people, and newcomers to engage in this exciting industry. 
Signing up to employ a student and applying for the wage subsidy is easy through the Magnet Outcome Campus Connect portal at magnet.whoplusyou.com/lp/cahrc-ccrha
New Criteria and Subsidy Levels as of May 1, 2022
Updates to the Student Wage Subsidy Program come into effect starting May 1, 2022. New wage subsidy levels for eligible placements will be:
●        50% of the wages (to a maximum of $5,000) for each net new placement.
●        70% of the wages (to a maximum of $7,000) for each net new placement for under-represented groups including women in STEM, Indigenous students, newcomers, and persons with disabilities, visible minority as well as first-year students.
Full details can be found under the Eligibility Criteria tab.
For questions, please contact Nadee Imran, AgriTalent Program Manager, at nimran@cahrc-ccrha.ca.