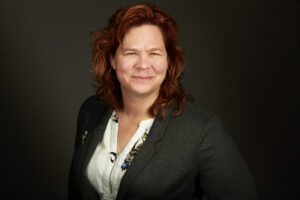 Ottawa, ON – Canadian Agricultural Human Resource Council (CAHRC) is pleased to announce Peggy Brekveld (Ontario Federation of Agriculture) has been acclaimed as Board Chair for the 2023-2025 term, replacing Paul Glenn (Canadian Young Farmers Forum) who completed his 2021 – 2023 term as of June 20, 2023. The Executive Committee for the new two-year term is now comprised of Peggy Brekveld (Chair), Stefan Larrass (Vice-Chair, representing Flowers Canada Growers), Cyr Couturier (Treasurer, representing Canadian Aquaculture Industry Association), Brenna Mahoney (representing Keystone Agricultural Producers) and Connie Kehler (representing Canadian Herb, Specialty Agriculture & Natural Health Products Coalition).
Peggy, a northern Ontario dairy farmer has been a CAHRC Board Member since 2021. She ascends from the position of Vice-Chair which she held for part of the 2021-2022 term. Peggy is also the President of the Ontario Federation of Agriculture, and is a member of the Agricultural Adaptation Council Board. She is a Class 12 graduate of the Advanced Agricultural Leadership Program. In 2008, the Brekveld's were finalists in Ontario's Outstanding Young Farmers program.
Peggy and her husband Gert own and operate Woodstar Farm, a 75-cow dairy operation in Murillo. She enjoys promoting the importance of agriculture and local food to provincial politicians, municipalities, students and other community groups.
 "The agricultural industry is a leading economic driver for the Canadian economy and provides Canada and the world with a sustainable, safe and secure supply of food and other products. A leading issue in the industry is the labour shortage being faced across all commodities in all areas of the country." Peggy Brekveld, CAHRC's new Chair, said. "The Canadian Agricultural Human Resource Council (CAHRC) is leading the way in addressing this shortage and ensuring the industry has the workforce and skills for now and into the future. I am very pleased to be part of the solution in the role of Chair for the next two years."
"The Canadian Agricultural Human Resource Council is focused on ensuring the industry has the workforce it needs now and in the future. Our industry-led initiatives are made possible with the support and dedication of individuals and organizations in agriculture. With Peggy's leadership as Chair, and the commitment and dedication of all Board members, the leadership and impact of the organization on these important issues will continue to grow." said CAHRC's Executive Director, Jennifer Wright.
-30-
For more information contact:
Mélanie Fraxedas, Marketing and Communications Specialist
E: mfraxedas@cahrc-ccrha.ca
T: 647-338-1503
About CAHRC
The Canadian Agricultural Human Resource Council (CAHRC) is a national, non-profit organization focused on addressing human resource issues facing agricultural businesses across Canada. CAHRC works with industry leaders, governments and educational stakeholders, to research, develop and communicate solutions to the challenges in employment and skills development in primary agriculture.
The Council represents farming in all its forms: raising traditional and non-traditional livestock; producing, cultivating, growing, harvesting or collecting conventional and non-conventional agriculture commodities; and any practices performed as an integral part of an agricultural operation. 
For more information visit www.cahrc-ccrha.ca.